We stock a range of water coolers, please contact our Luanda branch for further information,
PROFESSIONAL RANGE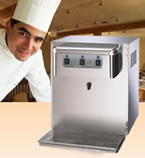 The coolers in Cosmetal's Professional range are intended for use in restaurants, hotels, bars, cafeterias and any other catering environment. Allowing you to say farewell to the hassles of bottled water provision and management and - in the process - improving the efficiency of the service you offer, the Professional range represents the most effective, hygienic and economical solution for the catering sector.
INDUSTRIAL RANGE

Cosmetal's Industrial water coolers - which connect directly to the mains water supply - are the ideal water-provision solution for public facilities such as schools, cafeterias, offices, train stations, airports, factories and offices.
All part of Cosmetal's comprehensive portfolio of "Drinking Water Solutions" for the immediate provision of fresh water
BOTTLED WATER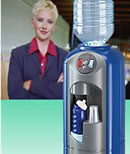 Extremely practical and easy to control, the Avant and Rio models are intended for use on shop floors and in offices, waiting rooms, meeting rooms and schools. These products really do represent the cutting-edge of water cooler manufacture, offering unrivaled levels of hygiene and strikingly ergonomic design.
DOMESTIC RANGE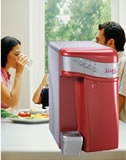 Cosmetal's domestic models are safe and simple to use at home.
Easily attached to the mains water supply, these models eliminate the hassles associated with water bottles as they can dispense large quantities of still or sparkling water, whether chilled or heated for use in tea and other infusion.
For further information please click here